57        Lacey Bartholomay      Goalie
55        Cecelia Brooks             Def/Mid
75        Sofia D'Avella               Attack
31        Carleigh Armstrong      Attack
54        Isabella Fontana          Goalie
6          Morgan Freund            Defense
23        Caroline Hertzberg      Defense
24        Brooke Lennon            Midfield
25        Megan Lynch                Midfield
7          Molly McCarthy             Midfield
30        Meghan McCarthy        Midfield
51        Lily Montemarano         Midfield
27        Caroline Pirone            Defense
28        Madeline Remington      Attack
37        Ellie Shea                           Attack
20        Emily Shimabukuro         Attack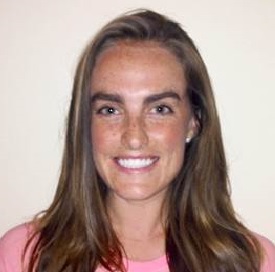 Kristen Coleman McDaniel
2020 Midnight Coach
Kristen Coleman McDaniel
is the Assistant Director of Athletics and Head Coach for Varsity Lacrosse at Stone Ridge School of the Sacred Heart in Bethesda, Maryland. Prior she was the Assistant Director of the Hanley Center and Summer Camps at Georgetown Preparatory School for four years and served as the Head Varsity Lacrosse Coach and Lacrosse Program Director at the Academy of the Holy Cross (AHC) from 2014-2017. In her second year as head coach, she led the Tartans to their best season in program history. AHC ended the season with a 16-4 record and a 2nd place finish in the WCAC tournament. They ended the season ranked as the #4 team in the country. Under her leadership, AHC achieved its first national ranking and highest Washington Post ranking since 2007. Additionally, Coleman was named Coach of Year in the Montgomery County Gazette.
Coach Coleman played Division I Lacrosse at Fairfield University, where she was team captain, and at Georgetown University where she finished her career as a fifth year graduate player. Kristen graduated from Fairfield as a US Lacrosse All-American. Ms. Coleman graduated from the Academy of the Holy Cross in 2007 where she is currently the head coach for the Varsity lacrosse team. During her high school career she was a four year Varsity Lacrosse player, serving as team captain during her junior and senior years. She was a 2007 U.S. Lacrosse High School All-American, and a three-time All-WCAC player, two time team MVP, and 2nd team All-Met. AHC finished her senior year ranked #6 in the Washington Post.
Lauren Binstein
2020 Midnight Coach
Lauren Binstein
graduated from high school in Malvern, PA in 2010. She went on to play D1 lacrosse at American University for all four years. In her sophomore year she solidified a starting position as a low defender and started and played in every game for her sophomore, junior, and senior season. Her senior year she was ranked third in caused turnovers. Her senior year Lauren was nominated as captain. Lauren has coached for MC Elite club as well as Junior Varsity at Walt Whitman High School.